Home Away From Home
As the Twin Cities' Tibetan community - the largest in America -continues to grow, so do the hopes for maintaining the culture extinguished in a homeland that younger Tibetans have never even visited.
By Paul Levy
Star Tribune Staff Writer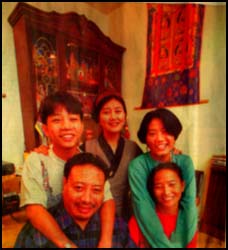 Star Tribune photo by Bruce Bisping
Thinly Woser posed with (clockwise from left) son Tenzin Phelgye, 14; daughters Tsering Yangkyi, 16, and Tenzin Yangzom, 18, and wife Tenzin Choedon. Choedon settled here in 1992; Woser and the children arrived in June of '96.
Thinly Woser was discussing how the Twin Cities metropolitan area has quietly become the largest concentrated center of Tibetan immigrants in North America and how that population of 400 is expected to triple within the next 18 months.
"Some people predicted this might be some paradise," said Woser, 41, a Tibetan who left India for Minneapolis in June. "I didn't think it would be paradise, but I thought it would be better than India."
As Woser paced about the two bedroom Minneapolis apartment he shares with his wife and three teenaged children, occasionally tugging at the snug-fitting T-shirt he purchased last summer for 50 cents, he circled seven bowls of water lined neatly on a table.
"This water- the cleanest, the cheapest the most precious thing in keeping life pure- is our offering for Lord Buddha," he explained. "This is part of Tibetan culture, and, to us, nothing is more important than our culture.
"The Chinese our culture in Tibet, and the Tibetans living in India have been Indianized. The United States is the only place left that encourages our culture, and Minneapolis may be our best hope."
Welcome to the Tibetan cultural mecca of the Western Hemisphere.
Five years ago, when seven American sites- including the Twin Cities- were selected by Tibetan officials in India and New York for the Tibetan Resettlement Project, clusters of Tibetans were expected to come to this country and alert Americans to the tortures their countrymen have suffered since the Chinese Communists invaded Tibet in 1950.
They told how the Chinese destroyed a nearly 500-year-old monastery, suppressed Buddhism and tortured and killed its followers. After a failed revolt in 1959, 90 monks followed their spiritual leader, the Dalai Lama, into exile in the foothills of the Himalayas and northern India, where traditional Tibetan life is maintained by 100,000 refugees. Buddhist monasteries continue to form the nucleus of Tibet's simmering independence movement.
The 150 Tibetans who arrived in Minnesota in 1992 and 1993-a few of them lottery winners, but most of them handpicked by Tibetan officials-agreed to stay for two years. They then had the option of returning to India or Nepal.
But none did.
Five years ago, 1,000 Tibetan immigrants began arriving in the United States as part of a resettlement project. By the end of this year, there could be 4,000 to 5,000 Tibetans in the United States, as those living in India and Nepal join family members here.
Where have the Tibetans gone?
The highest concentrated area of Tibetans is the Twin Cities with 400. There are 450 Tibetans diving in the "New York area," but that includes not only New York, but also New Jersey and Connecticut, said Tenzin Taklha, the resettlement project coordinator, from his office in New York City.
"But the large cities seem to lose people," he said. "The Twin Cities have been the exception."
Other cities that have attracted Tibetans include: San Francisco and Portland, Ore., with about 200 each; Madison, Wis., with 150; Chicago with 120, and Los Angeles, Washington and 100 each. l "When we first bought Tibetans, none of these had any choice or about any of the cites Rinchen Darlo, the representative in the U.S. and Boston with and bought in 1,000 these people knew anything Dalai Lama's representative Western Hemisphere, from his New York office. "Since we left Tibet we haven't had a permanent place we could call home. But it for some, the Twin Cities may be that place."
"One of the Tibetans who has traveled all over the United States told me she feels like she wants to go home," said Thupten Dadak, former Tibetan monk and former executive director of the Tibetan American Foundation of Minnesota. "But then she told me,'Minnesota is like home.' "
Dadak, a tireless worker who made several trips to India to escort Tibetan immigrants to Minnesota, helped ease the transition. But caring host families, available employment, accessible public transportation, the cleanliness of the Twin Cities and even Minnesota's ever-changing weather seemed to appeal to the Tibetans- and not just the Tibetans coming from India.
Tenzin Tsepak left Boise, Idaho, for the Twin Cities. Pema Takca spent time in Alaska and Missoula, Mont., before purchasing a home in Minneapolis. His sister-in-law arrived from Maryland. Most of the 25 Tibetans who settled in St. Louis four years ago have relocated in the Twin Cities.
"There are so many Tibetans in Minneapolis that our Tibetan traditions and culture may be able to survive," said Keydong Dawa, 38, who left India for St. Louis in 1993, only to resettle in Minneapolis three months later. His wife and three young children remain in India, but are expected to move to Minneapolis early this year.
"We can maintain our own identities here," Dawa said.
Certainly, the occasional moving by some, from one settlement site to the another, was anticipated, Rinchen Darlo, the Dalai Lama's representative to the Western Hemisphere, said from his of office in New York. But the unparalleled growth of the Tibetan community in the Twin Cities was unexpected, he said. After all, before the Tibetan Resettlement Project began, there were only two Tibetans known to be living in the Twin Cities.
But long after the migration of Tibetans from other U.S. cities to Minnesota diminishes, the Twin Cities' Tibetan population is expected to swell as families reunite. In most cases between 1992 and 1994, only one member of a Tibetan family would arrive from India or Nepal. Now, spouses and children are coming. And when Tibetans receive U.S. citizenship, they are expected to recruit other relatives in India and Nepal to join them.
Settling for less
Woser's family is typical of the Tibetan migration to the Twin Cities. His wife, Tenzin Choedon, was among the first wave of Tibetans to arrive in the Twin Cities in 1992. A former teacher, she has spent much of the past four years working two housekeeping jobs, enabling her to rent an apartment, buy necessities, establish herself within the local Tibetan community and determine that the area would be suitable for her family. Woser, their two daughters and son arrived in June.
The reuniting of their family has dulled some of the frustrations Woser has felt since arriving in America. Fluent in four languages including English, Woser served under the Dalai Lama in India, as the vice chairman of the local Tibetan school advisory board, president of a local health committee and overseer of social workers trying to find homes for Tibetans settling in India.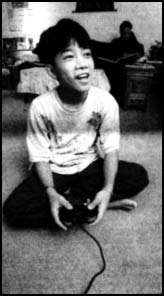 Tenzin Phelgye, 14, plays video games while his father, Thinly Woser, reads. A good student, Tenzin often uses art to express his feelings.
Star Tribune photo
by Bruce Bisping
Like many other immigrants, including his wife, Woser has at least temporarily settled for a job that hardly fits his qualifications; since October he has worked as a temporary worker in the mail room of American Express Financial Services in Minneapolis. Woser does not seem concerned about maintaining a certain financial status, but he would like his children to maintain their Tibetan culture and heritage- even though they have never set foot in Tibet.
"We didn't see any future for our children in India," said Woser, whose name, translated, means "a ray of enlightenment." And, in the Twin Cities, he sees a ray of hope.
"Our language, our books, our hour of evening prayer, our daily rituals . . . everything that makes up our culture is precious. When His Holiness the Dalai Lama visited Chicago, he said, 'You have to preserve your culture.' We are trying to do that here."
But can they?
Sure, there have been monthly potluck gatherings of Tibetans at the First Unitarian Society, a monthly newsletter called YakketyYak, parties to commemorate the Dalai Lama's winning of the Nobel Peace Prize and dance and chanting performances by visiting Tibetan monks.
Ann Ayrault, the Tibetan American Foundation's new executive director, would like to establish a Tibetan center that offers language courses and an after-school latch key program. "These people have been displaced for so long, they need a place they can call their own," she said. It took nearly five years, but the Tibetan American Foundation of Minnesota finally has its own office.. (For information, call 872-4866.)
"I'm happy to send my children to Minneapolis schools because I think my children will get a quality education. At the same time there is a fear they might forget about their roots and culture."

-Tenzin Choedon
"Why not Tibetans?"
Yet, when Woser studied at Minneapolis school guide last summer, he noticed references in the curriculum to French, Chinese, Hmong, Vietnamese and Cambodian students. "Why not Tibetans?" he asked.
But the Tibetans had not been forgotten. Ann Lundquist, a volunteer and one of the firs Tibetan hosts in 1 workshops were held at some Minneapolis schools. Tibetans were encouraged to attend a Hmong class at Edison High School and then asked how similar classes might allow Tibetans to become integrated more easily into local society while maintaining their cultural identities.
"I'm happy to send my children to Minneapolis schools because I think my children will get a quality education," Choedon said. "At the same time there is a fear they might forget about their roots and culture."
Certainly, there are cultural and history lessons to be learned at home. Although just a preschooler when his family fled Tibet in 195a Woser recalls vividly his father being shot to death by the Chinese and the deaths of three brothers who could not survive the treks through the mountains and forests at night. Choedon, who left Tibet for India when she was 2, recalled the loneliness her displaced family felt for years.
"Coming to a new country after having families torn apart would be enough to overcome," said Lynn Branham, social worker at Susan B. Anthony Middle School, which alone with Southwest High, has the majority of Minnesota Minneapolis Tibetan teenage students.
For some of these students, language barring barriers are obvious problems. So are foreign diet lunch lines, grading systems, bus schedules, combination lockers and homesickness. Many of these students had never seen light switch or turned a faucet before their arrival in this country.
"But these kids are different in other ways Branham said. "They are universally eager to learn. They attend every single day, They're time. They want to follow directions. They smile. They ask questions. Their eagerness is really delightful."
Tenzin Phelgye, 14, Woser's and Tenzin Choedon's son, has struggled a bit with math but otherwise has received A's and B's. (Tenz is a common Tibetan name. Of the 13 Tibetans students at Susan B. Anthony, eight are named Tenzin- seven boys and one girl. They offer refer to themselves by their second name.)
"I like my art class best," he said, tapping the "Free Tibet" button fastened to his back pack. "In art class, I can express the way I felt
His teacher, Mary Hedrick, proudly show a detailed drawing he created- one with a yak, monk flag, mountains and other symbol of a country he calls home, but has never se For such efforts, Tenzin received an A-plus first term.
"I am so proud of my children," Woser said His daughters, Tenzin Yangzom, 17, and Ts ing Yangkyi, 15, attend Southwest High. "They've come so far in so many ways.
"Sometimes I question myself: How did make the decision to come here? I had a job in India. I have maybe 100 relatives imp imprisoned in Tibet.
"And then I look at my children. In Tibet, we have a saying: 'The good things you learn from even the smallest child.' We teach our children our culture. They teach us about America."

Copyright 1997 Star Tribune. Republished here with the permission of the Star Tribune. No further republication or redistribution permitted without the express written consent of the Star Tribune.