My Greatest Place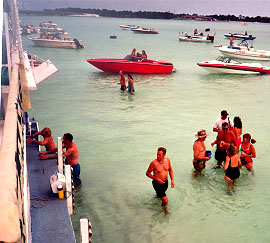 Destin, Florida
From: John

---


Is it the same type of place as one of the 7 Greatest Places?
Yes! It's an Island.


About this Greatest Place:
You can do almost anything you want! You can jet ski, para sail, swim in the crystal clear ocean, putt-putt, go-cart, drive dune-buggies, visit alot of bars, and deep sea fish! You can meet lots of women for all you guys and for all the girls you can meet me down there! It is a great place because it is a place where you can be free and different!
| | |
| --- | --- |
| Longitude: | west of the prime meridian |
| Latitude: | north of the equator |
Add YOUR Greatest Place!
---

Greatest Places Online
Science Museum of Minnesota
© 2000