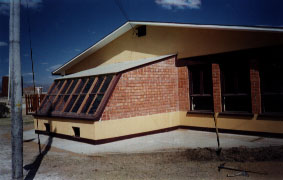 At an existing SOS Childrens Village in Oruro, Bolivia the childrens homes were cold.
Bruce Stahlberg writes, "These homes were built several years ago and have been experiencing problems with the salt in the land deteriorating the bricks and foundation. As part of solving this large problem, my job has been to figure out a way to make them comfortable, as the temperatures are essentially the same as in Potosi(another SOS village site). As a good example of how the designers forgot the basics of passive solar design, these homes are very cold and uncomfortable due to poor orientation and lack of insulation."
The remodeling included closing off large holes in the ceiling, adding insulation and installing weather stripping around the windows and doors. The final addition was the greenhouse you see in the picture above. The greenhouse uses passive solar energy to heat the house.
Since the project was completed the mother has reported that the home is warmer and the children have been sick less this year.
For another example of how passive solar energy was used to help pig farmers see Bruce's narration.

---